Location
7/152 Bluestone Cct
Seventeen Mile Rocks
QLD 4073
Ducted Air Conditioning Brisbane
Talk to Technicool about ducted air conditioning Brisbane wide
Ducted Air Conditioning Installation & Cost
Here at Technicool, we believe the cost of ducted air conditioning in Brisbane should be affordable and within reach for everyone.
Our ducted air conditioning Brisbane team think there is no better way to stay comfortable at home or in the office during one of our hot summers or cool winters than with a well designed ducted air conditioner.
If you have been thinking about ducted air con for your property, we will go out of our way to provide you ducted air conditioning installation at the lowest possible price we can find.
Benefits of Brisbane Ducted Air Conditioners
A ducted air conditioner will provide the ultimate comfort for residential homes and commercial buildings by efficiently and silently pushing clean, fresh air at the exact temperature required into the spaces you need, when you need it and all from the swipe of a finger. Some of the ducted air conditioning Brisbane wide benefits you will experience include:
Complete Climate Control – Set a different temperature for every room from one central controller.
Reverse Cycle – Many systems come with both a cooling and heating function known as 'reverse cycle' which allows you to do away with expensive heaters.
Silent Operation – For those who like to rest or work in silence, nothing beats the whisper-quiet output of ducted air conditioning.
Visually Appealing – A ducted system is 90% hidden in the roof and walls so will have no impact on the visual appeal of your home or building
Energy Efficient – Innovative technology such as climate control means less energy is used providing superior energy efficiency compared to running multiple units.
Cleaner Air – Most modern units will now purify the air for you, offering a great benefit for people who suffer from breathing problems, allergies, asthma and hayfever
Fewer Carbon Emissions – A well known A/C brand installed will only emit 30% of the carbon emissions that a typical electric heater will produce
Resale Value – Ducted Air Conditioning is a huge benefit when selling a property in South East Queensland as it is one of the top preferred features from potential buyers
Flexibility and Choice  – 

Ducted systems offer a variety of useful features and can be designed to suit most building layouts.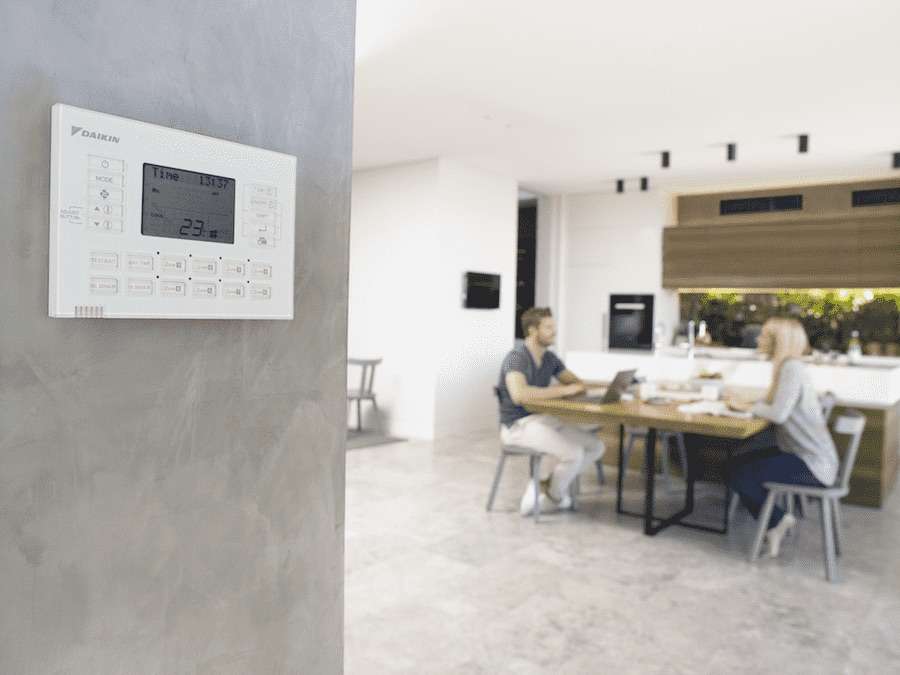 How Ducted Air Conditioning Works
There are two major components to ducted air conditioners that do all the heavy lifting: 
1) The compressor unit that sits outside the building
2) The air handling unit that sits in the roof space inside of the building
While these two units form the backbone of any system, the air still needs to be efficiently circulated into different rooms, which is done via a series of pipes known as ducting, carefully hidden in the walls and roof space.
How the air flows:
Air travels through the ducting into the room via another component called a diffuser or a vent.

Air is circulated into different zones and controlled by air regulators. 

Regulators (also known as Dampers) allow the treated air into the chosen zone, and when switched off, the regulator completely closes.

Air returns to the system via return air grilles which are vital pieces of the jigsaw because they also house air filters, which aid in purifying the circulating air.

More modern diffusers even come with an LED light which alerts the owner that they need cleaning

Regular cleaning of ducted air conditioners (especially their critical components) plays an important part as dirt and grime can build up and negatively impact their efficiency.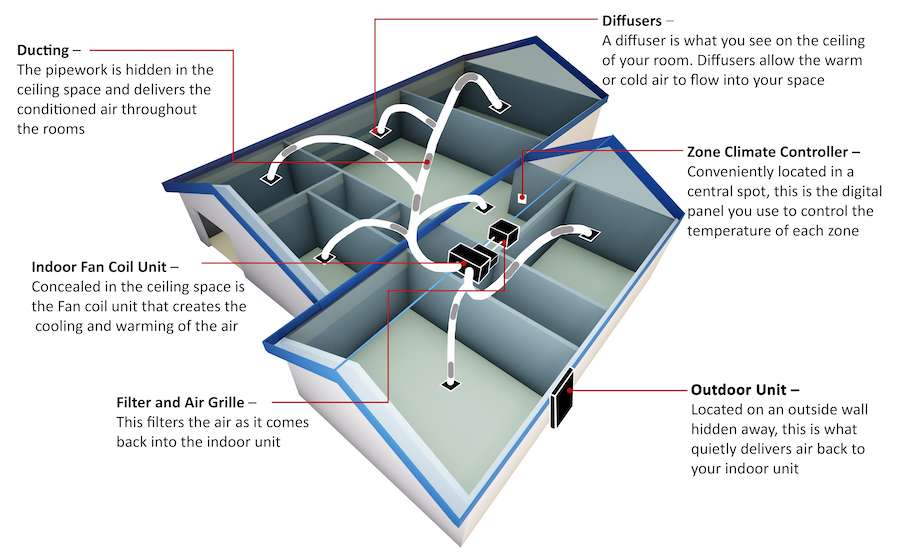 Grouping rooms or spaces to be air-conditioned is known as zoning. Having ducted air conditioning zones is great for conserving electricity as the system can function more efficiently and use only the zones you need at specific times.
For example, when everyone's sleeping, you can turn on the climate control for the bedroom zone whilst everything else is switched off. Of course, you can control each room's temperature in the zone, which allows for even greater comfort control.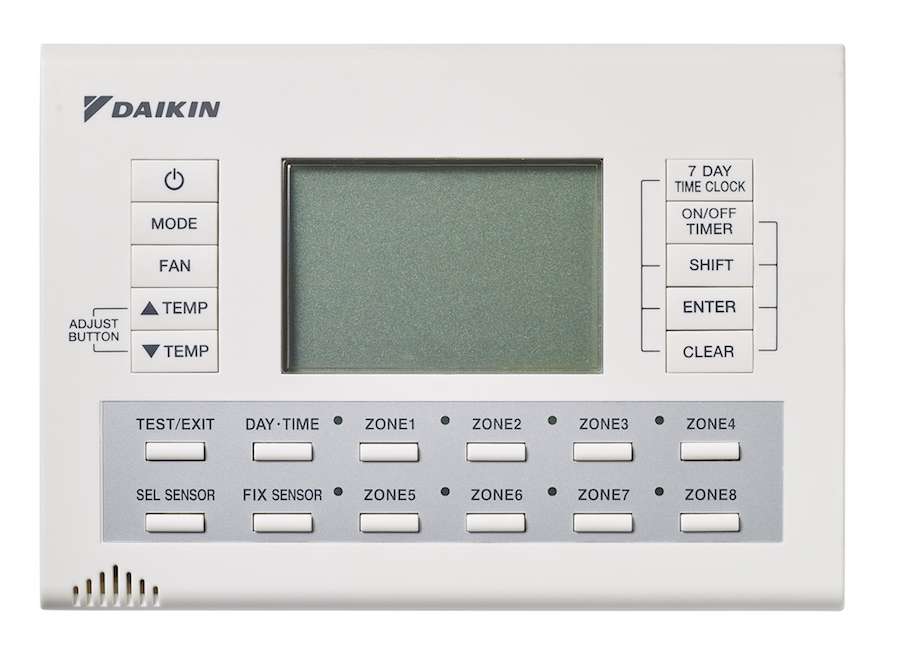 Wi-Fi control is the ultimate feature that will enable a smarter cooling or heating experience.
When you connect your ducted air conditioner to your smart device via your online account and a special app, you have the ability to control the whole system from anywhere as long as you are connected to the internet.
You can turn your unit on or off, adjust or set the temperature before you arrive home, change the mode, fan speed, or air direction or zone, giving you complete control over your system.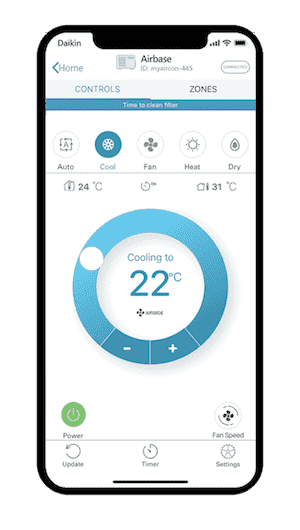 Types Of Ducted Air Conditioners
While there are various types of ducted air conditioning systems on the market, the choice you make will ultimately be based on your budget, property, and specific needs. The two main types of ducted air-con systems are:
Ducted Refrigerated Air Conditioners

: This is the typical type of system you see in residential properties. It comes with both heat and cooling capabilities, can be zoned and can come with all the features you would expect.

VRF Refrigerated Air Conditioners: 

VRF stands for Variable Refrigerant Flow. These systems are more suited to commercial, industrial and multi-level homes where access is a little more complicated. Considered top of the range, they offer everything a standard ducted air conditioning system offers but with even more energy-efficiency and compact styling options for narrower spaces.
Ducted Air Conditioning Prices
Ducted Air Conditioning prices vary depending on your properties size and several other important factors.
As a guide, our expert technicians can help you with an obligation-free price estimate over the phone if you let them know about your space and what you are wanting.
Because most homes or buildings aren't the same, we always come to your site or home to discuss your needs and see the spaces so we can recommend the most affordable and suitable solutions.
For years, we've been installing ducted air conditioners for many happy customers who initially didn't think they could afford it. We go to great lengths to secure the best solutions and prices, and we would love to do the same for you.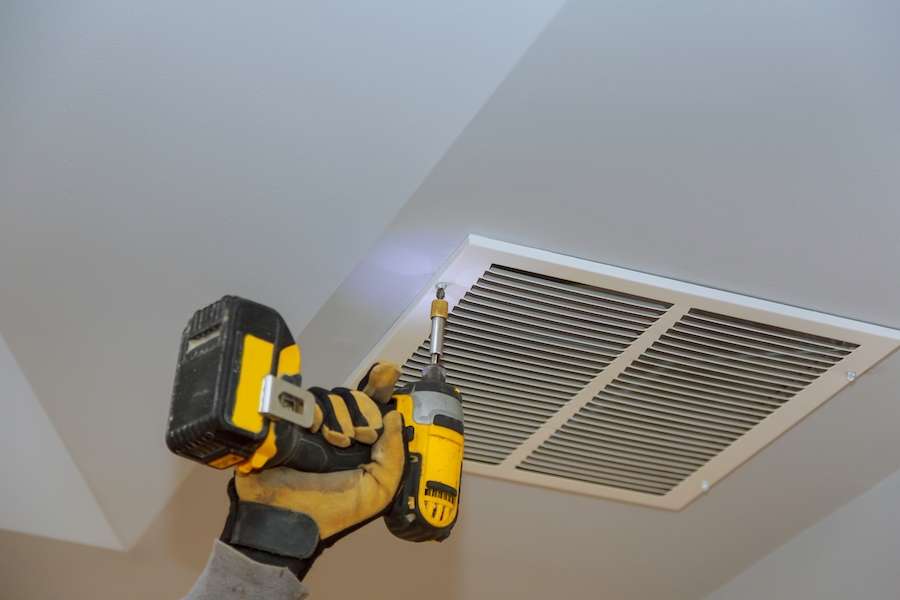 Ducted Air Conditioning Installation 
If you are interested in finding out about ducted air conditioning installation for your property, our experienced Technicians will firstly take the time to meet with you to look at your space and to discuss your requirements. At the initial visit, we will look at things such as:
The layout of the building and the sizes of each of the rooms
The orientation of the rooms concerning direct sunlight exposure
The size of any windows, doors and openings
What your building is made of, for example, whether it is brick, timber cladding or concrete block
Whether there is any insulation in the walls and roof
How many people are likely to be in each of the rooms at any one time and what space will be used for
From this point, we will work through the features and needs you would like whilst always being mindful of your budget to provide you with several recommendations. Once you have given us the go-ahead, we will organise a suitable time to come and install your new system.
What size do i need?
There are many factors to consider, including room size, orientation, insulation used, window and door openings, so it's wise for us to inspect your area first.
Which is the best brand?
Daikin ducted systems have always proven to be the best on the market due to their reliability and features.
Is ducted aircon efficient?
Although it usually costs more upfront, compared to running multiple split system units at the same time, a ducted system with climate control and zoning will definitely be cheaper to run.
When do i need to service my system?
For optimal performance, a thorough professional service should be performed at least once in a 12 month period.
Are there guarantees or warranties?
Yes, there is our quality of workmanship guarantee and there is a 5-year manufacturer guarantee on parts and labour from Daikin as long as it is installed by a professional like us. 
How soon can you install a new system?
Usually within 2 weeks of giving us the go-ahead. 
7/152 Bluestone Cct, Seventeen Mile Rocks QLD 4073
7/152 Bluestone Cct, Seventeen Mile Rocks QLD 4073