Location
7/152 Bluestone Cct
Seventeen Mile Rocks
QLD 4073
Ducted Air Conditioning Repairs Brisbane
The team at Technicool specialises in ducted air conditioning repairs Brisbane wide.
Ducted Air Conditioning Repairs Brisbane
Ducted air conditioners are the best way to beat the heat and keep your home or business cool. If you want to enjoy your system year-round, the team at Technicool provides ducted air conditioning repairs Brisbane wide. With fully qualified technicians and access to spare parts from all major manufacturers, we can provide fast, affordable and efficient repairs for all ducted systems. Whether you need a repair, replacement or installation, contact us and book your appointment today!
Book Your Ducted Air Conditioning Repairs Brisbane
Technicool specialises in the repair, servicing and maintenance of all types of air conditioning. We have extensive experience working with ducted systems, and they continue to be some of our favourite options on the market. But, ducted air conditioning works hard, and you may need repairs from time to time.
It's important not to run ducted air conditioning if you're experiencing a problem. Turning on a faulty air conditioner may damage internal components. If you notice an issue, switch the system off and contact Technicool. We're always happy to discuss your options and provide the ducted air conditioning repairs Brisbane homeowners need.
We offer ducted air conditioning repairs to both residential and commercial clients. We work on systems from all major manufacturers, so we can identify and repair any issues you're experiencing. If your air conditioning is struggling to stay cool, making strange noises or smells, or if you notice any other problems, give us a call to book your repair appointment.
Signs Your Ducted Air Conditioning Needs Repairs
Brisbane's summer temperatures mean you rely on your air conditioning to work, first time, every time. If something goes wrong then you could find yourself in a sticky situation.
Contact Technicool and make an appointment if you notice any of the following issues:
Struggling to cool your home.

The biggest sign of a failing ducted air conditioner is inconsistent temperatures. This can be caused by faulty motors, leaking refrigerant or a failing compressor system.

Strange noises.

Failing components and motors often make squeaking, ticking or clicking noises. Switch the system off if you hear any unusual sounds.

Mouldy smells.

Build ups of moisture in your air conditioning ducts can cause the system to smell musty or mouldy. This can usually be taken care of with regular maintenance, but it may be a sign that there's a bigger issue at hand.

High energy bills.

A well-maintained ducted air conditioner is one of the most efficient ways to cool your entire home. If your power bill is unusually high then it may be a sign that something is wrong with the system.

If the system is 10+ years old.

Ducted air conditioners have a limited lifespan. If your system is more than 10 years old, or if it needs excessive maintenance and repairs, it may be time to replace the system.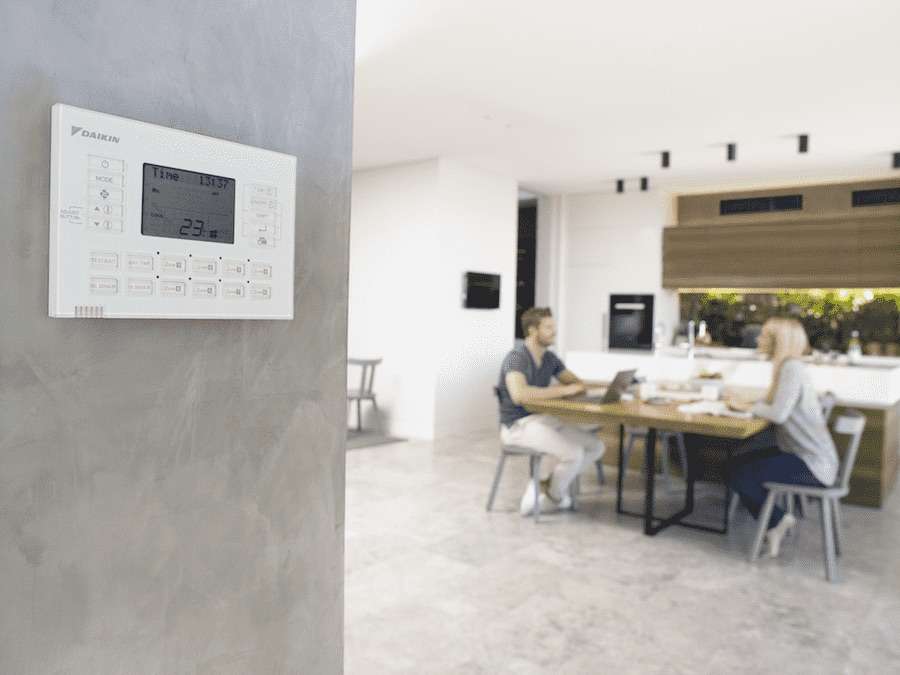 How Ducted Air Conditioning Works
Ducted air conditioning systems are made of two major components: an exterior compressor unit and the internal fan coil unit installed in your roof. These two parts work together to cool the air inside your home and then distribute it to each zone through ductwork in the ceiling.
Your air conditioner is a clever appliance, but it works based on very simple principles. First, the internal fan coil unit draws up the warm air that's inside your home. That warm air is passed over pipes that are filled with cold refrigerant gases. Heat from the air is absorbed by the cold refrigerant, and the cool air is then distributed back into your home through the ductwork.
The refrigerant is then circulated through the system and out to the external compressor unit. The warm refrigerant is cooled by a large fan which dissipates the excess heat. Once it's cool, the refrigerant can then be compressed and start its journey all over again.
Is it Better to Repair or Replace Ducted Air Conditioning?
It's usually more economical to repair a ducted air conditioning system when you experience a fault. Ducted air conditioning units are a serious investment, so replacing the system isn't trivial. In most cases, ducted systems can be repaired for a fraction of the cost of a replacement system.
We may recommend replacing your ducted air conditioner if the system is very old (over 10+ years) or if it needs an excessive amount of repairs. As air conditioners get older, more parts wear out, and it can be costly if you need major repairs on a regular basis.
Whatever the case may be, the team at Technicool can offer advice to help you make the right decision. We take pride in giving honest feedback and discussing all the options available. Our team will work within your budget to replace or repair your ducted air conditioning system, allowing you to enjoy year-round comfort without worrying about huge repair bills.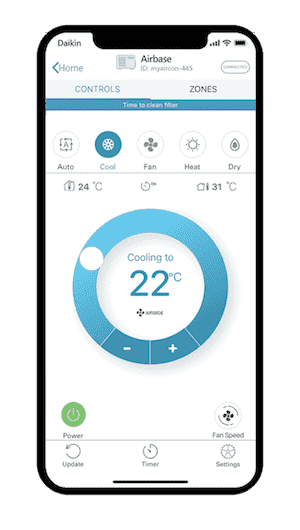 Contact Technicool for Ducted Air Conditioning Repairs Brisbane!
The team at Technicool has decades of experience in ducted air conditioning repairs Brisbane wide. We're available all over Brisbane to provide fast, efficient and affordable repairs that can get your air conditioning up and running sooner. Whether you need help for your home or business, our ducted air conditioning repairs will ensure your systems are in perfect condition. Give us a call to book an appointment or fill out the form below and we'll be in touch!
What size ducted air conditioner do I need?
The size of your air conditioner depends on things like the size of your rooms, the orientation of the space, window and door openings, insulation and more. We'll need to assess your property before we can recommend the right size ducted air conditioner.
Which is the best brand of ducted air conditioning?
We work with a variety of leading manufacturers, but Daikin systems remain our favourite. Daikin ducted air conditioning has always proven to be the top performing solution with some of the market's best reliability, efficiency and features.
Is ducted air conditioning efficient?
Ducted air conditioning is more energy efficient than running multiple split systems at the same time. With zone control and the ability to shut off certain parts of your home, ducted air conditioners can provide great energy efficiency for their size.
When do I need to service my air conditioner?
Ducted air conditioning systems should be serviced at least once every 12 months. Regular servicing keeps your system in perfect condition, extends its lifespan and improves energy efficiency.
Does your work come with guarantees or warranties?
Yes, we offer a workmanship guarantee, as well as the 5-year manufacturer warranty from Daikin.
How soon can you install my new air conditioner?
It usually takes us 2 weeks from getting your approval to book your ducted air conditioning installation Brisbane. The installation process typically takes 1-3 days depending on the size and complexity of the system.
If you are looking for a reliable Brisbane ducted air conditioning company then call our friendly team of experts on 07 3376 2644 today.
7/152 Bluestone Cct, Seventeen Mile Rocks QLD 4073
7/152 Bluestone Cct, Seventeen Mile Rocks QLD 4073