Location
7/152 Bluestone Cct
Seventeen Mile Rocks
QLD 4073
Split System Air Conditioning Installation Brisbane
Split system air conditioning is a great choice for the home or office. Call for a FREE quote on split system air conditioning in Brisbane!
Brisbane's Split System Air Conditioning Experts
The team at Technicool are specialists in installing split system air conditioners. We work with clients throughout Brisbane, providing fast, friendly and reliable installation services.
Split system air conditioning is one of the best solutions for beating the Queensland heat. With low upfront costs, high energy efficiency and the flexibility to choose a system in dozens of sizes, split systems are perfect for every home.
Technicool has designed air conditioning installations for all types of rooms and properties. Our team has the skills to tackle any job. Whether it's your home, apartment or a commercial space, our solutions can be tailored to suit your property. If you're ready to stave off the heat, get in touch for a FREE quote today!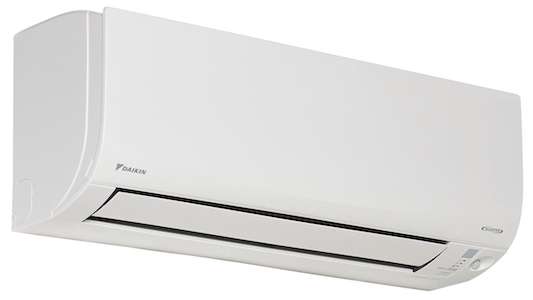 Advantages of Split System Air Conditioners
We install all types of residential and commercial air conditioning at Technicool. With decades of experience under our belt, we're happy to say that split system air conditioning is the best option for most people.
Split system air conditioning is an affordable and efficient solution for homes and businesses. We recommend split systems to our customers because they offer:
Affordability

– Split system air conditioners are very affordable. The upfront purchase price is low, and installation is simple, keeping the total cost of the project under control.
Flexibility

– We work with leading manufacturers and can source a split system that's suitable for any space. Whether it's an office, bedroom, living area or commercial space, split systems are flexible enough for most applications.
Discreet installation

– The use of inverter technology makes split systems exceptionally quiet. All that's required is a discreet white unit on the wall, and you'll be able to stay cool year-round.
Energy efficiency

– Air conditioners are more efficient than ever. Smart programming, inverter compressors and the ability to draw on your solar panels makes split systems an eco-friendly option.
Split systems air conditioners are made up of two major components: an indoor wall unit and an outdoor compressor unit.
These two components work together to remove heat from the air inside your home. First, the air from inside your room is sucked up into the wall unit. It's blown across pipes filled with chilled refrigerant gas, which absorb heat from the air. The cooled air is then blown back into the room.
Next, the refrigerant is pumped outside to the compressor unit to dispose of excess heat. Once heat is removed from the refrigerant, the gas is compressed and ready to begin its journey again!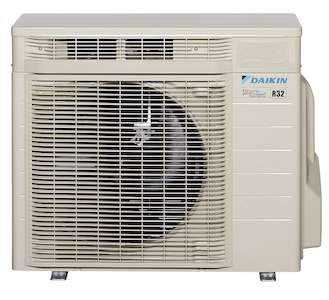 How Much Does it Cost to Run?
Research from Canstar Blue shows that it costs Brisbane residents an average of $130 per year to cool a room using a split system air conditioner.
The actual amount it costs to run your air conditioner depends on the size of the system, the size of the room, how often you use it, the temperature settings and more. As a general rule, split systems cost more to run than ceiling fans, but they provide much greater cooling power for summer's hottest months.
You can reduce the running costs of your air conditioner by using the built-in smart programming functions. In the heart of summer, it also helps to seal air gaps around doors and windows, close the curtains, and keep the thermostat set to 24C.
When it comes to effective split system air conditioning units, Daikin sets the standard for performance, quality, engineering, technology and reliability.
For those reasons, we typically recommend Daikin units when installing split system air conditioning in Brisbane. Depending on your space, we can select a Daikin unit that ensures exceptional performance, efficiency and comfort.
Daikin air conditioners are class leading, and they come packed with features that improve efficiency and air quality in your home or office. With a range that includes products with a 7-star Super efficiency rating, Daikin units are the best way to beat the heat without hurting your back pocket.
Technicool provides fast and efficient split system air conditioning installations across Brisbane.
We're a team of experts that have the skills, tools and equipment to make short work of any installation. We take great pride in offering quality workmanship, so you can rely on our installations to deliver years of trouble-free comfort.
Our technicians are some of Brsbane's most highly qualified split system experts. Each air conditioning installation services are backed by:
Superior Customer Service
If you live in the Brisbane area and are thinking about installing split system air conditioning – give Technicool a call on 07 3376 2644. You'll be in great hands!
7/152 Bluestone Cct, Seventeen Mile Rocks QLD 4073
7/152 Bluestone Cct, Seventeen Mile Rocks QLD 4073